Global eTraining's 'The Generator' Named SIIA Business Technology Product CODiE Award Finalist for Best Corporate / Enterprise Learning Solution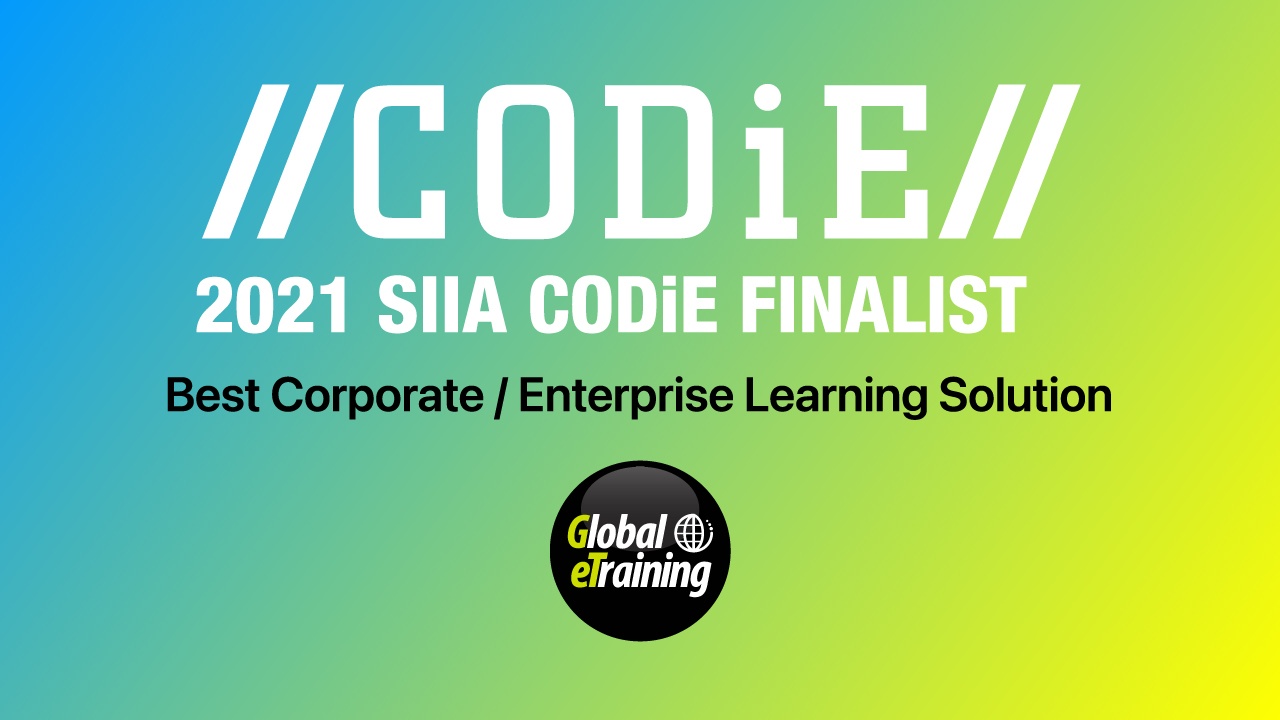 Edmonton, Alberta, Canada
(May 12, 2021)
Interactive online training solutions provider, Global eTraining, announced today that 'The Generator' was named a 2021 SIIA CODiE Award finalist in the Best Corporate / Enterprise Learning Solution category. Finalists represent the best products, technologies, and services in software, information, and business technology.
'The Generator' is a collaborative course authoring technology that allows organizations to capture and transfer knowledge by building and customizing eTraining, workflows, and processes.
'The Generator' remains the most flexible course authoring solution available, allowing users to:
Build Any Course
Create interactive training with a simple to use drag-and-drop course builder

Build content from any starting point (Adobe Captivate, PowerPoint, .CSV Template, Global eTraining, or from scratch!)

Translate content into over 25 languages
Learn Any Way
Automatically create a personalized learner interface

Include interactive elements to drive learner engagement and comprehension

Toggle between dark and light mode for visual preferences

Leverage custom learning paths for competency-based training
Share Anywhere
Distribute content freely with complete control

Access a fully functional learning management system (LMS), complete with administrator tools and API access

Publish courses on any LMS with SCORM compliant files

Provide access to automatically published content and course updates regardless of the LMS
Measure Everything
Access all data from course content built with 'The Generator', monitored and displayed on robust reporting dashboards via PowerBi

Measure ROI and make data-driven decisions with complete visibility and tracking
Acknowledged as the premier awards program for the software and information industries for over 35 years, the SIIA CODiE Awards are produced by the Software & Information Industry Association (SIIA), the principal trade association for the software, education, media, and digital content industries. 'The Generator' was honored as one of 153 finalists across the 43 business technology categories, including two categories in response to COVID-19. 
"The 2021 CODiE Award finalists continued to innovate, pivot, and grow to develop truly remarkable products throughout a historically challenging year. These finalists maintain the vital legacy of the CODIEs in spotlighting the best and most impactful apps, services, and products serving the business tech market. Congratulations to this year's finalists on this well-deserved recognition," said Jeff Joseph, SIIA President.
"We are very proud to be finalists in the 'Best Corporate / Enterprise Learning Solution' category. 'The Generator' is making it easier than ever for companies to easily author and distribute content to their staff and learners, but more than that, it is built on a model of collaboration - allowing for the most efficient methods of producing, sharing, and re-using existing content within an organization.

Steve Wenzel, Co-Founder, CTO and Chairman of the Board for Global eTraining
The SIIA CODiE Awards are the industry's only peer-recognized awards program. Business technology leaders including senior executives, analysts, media, consultants, and investors evaluate assigned products during the first-round review. Their scores determine the SIIA CODiE Award finalists which accounts for 80% of the overall score. SIIA members then vote on the finalist products and the scores from both rounds are tabulated to select the winners. In light of the COVID-19 pandemic, Business Technology category winners will be announced during an online winner announcement celebration on June 22, 2021.
Details about each finalist are listed at https://history.siia.net/codie/2021-Finalists
About the SIIA CODiE™ Awards
The SIIA CODiE Awards is the only peer-reviewed program to showcase business and education technology's finest products and services. Since 1986, thousands of products, services, and solutions have been recognized for achieving excellence.  For more information, visit siia.net/CODiE.
About Software and Information Industry Association (SIIA)
SIIA is the only professional organization connecting more than 700 data, financial information, education technology, specialized content and publishing, and health technology companies. Our diverse members manage the global financial markets, develop software that solves today's challenges through technology, provide critical information that helps inform global businesses large and small and innovate for better health care and personal wellness outcomes.
About Global eTraining
Global eTraining (GeT) is a strategic training partner to some of the world's largest and most diverse multinational design, construction and software organizations, government bodies and Fortune 500 companies, and the global leader in developing and designing training for the 21st Century.
The 'GeT Everything' Library provides individuals and organizations with All Access and Complete Control of the entire Global eTraining course catalog and learning experience, for One Low (Pay-As-You-Go) Price.
Learn Faster. Retain More. Save Time.
For more information about Global eTraining, please visit globaletraining.ca
To stay updated on new course releases, please follow Global eTraining on Twitter and LinkedIn.