AI-Powered Course Creation
A content creation tool that harnesses the unparalleled power of AI to make building custom training faster and easier than ever before.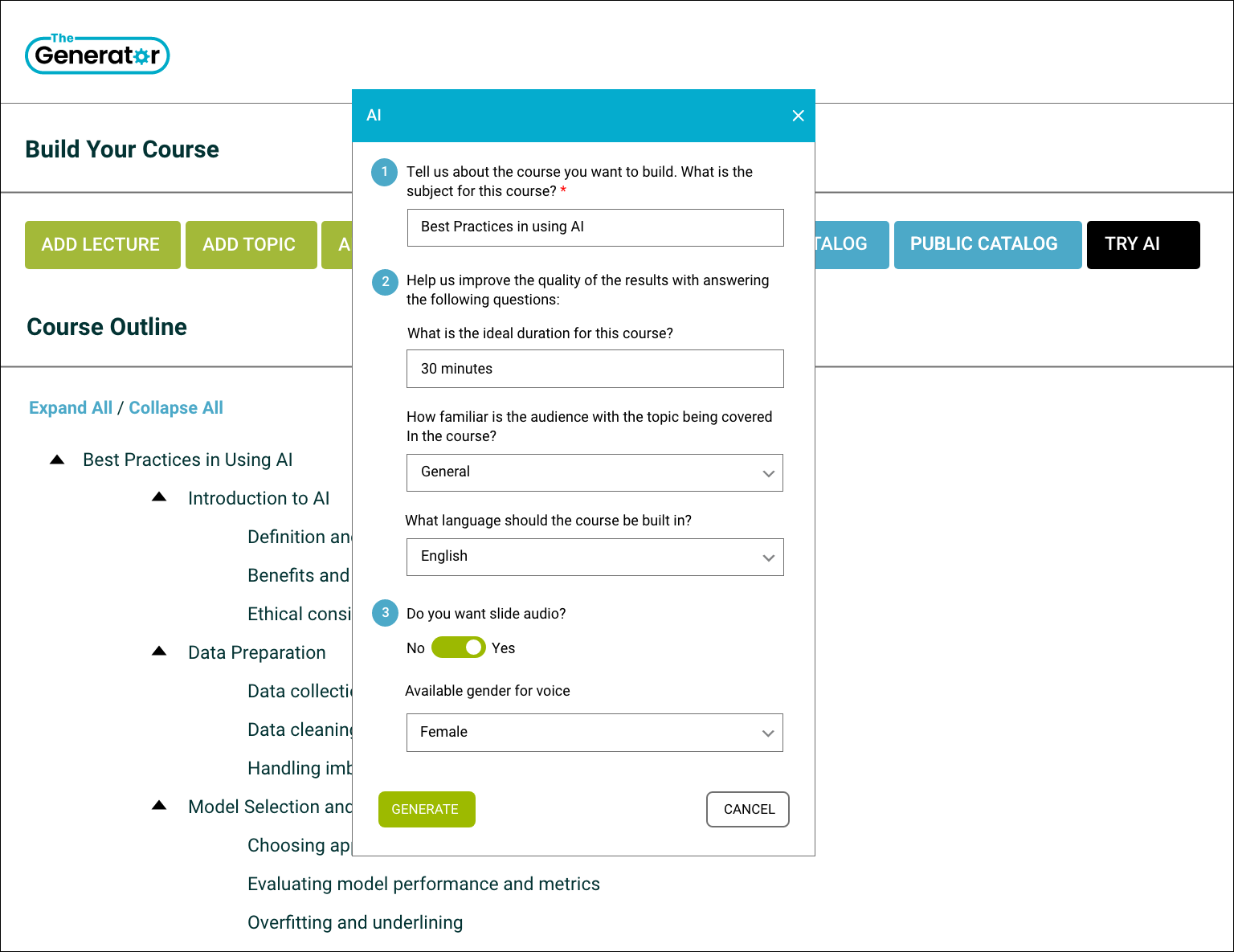 Generate custom training
in seconds
Global eTraining's AI-powered course creation tool works alongside The Generator course builder to create company and project-specific training in seconds – helping course builders overcome the hurdle of getting started and saving countless hours in content building.
Create company and project-specific courses
Combine near limitless artificial intelligence, thousands of hours of expert GeT content and your project and company-specific workflows to create the most comprehensive online training programs possible.
AI's vast breadth of knowledge & ability to quickly search for and identify relevant content
Global eTraining's thousands of hours of expert, BIM-relevant training
Your company's unique standards, workflows and processes
Build training that drives engagement
Learners will experience your AI-generated content on Global eTraining's state-of-the-art course interface.
The course interface is completely interactive and enables you to add in additional engagement and retention-driving learning elements in a variety of formats, including images, videos, hands-on exercises and more! These additional elements cater to your team members's unique learning styles as per the VARK learning methodology.
This allows learners to dictate their own experience, consuming courses through their preferred method of visual, auditory, read/write or kinesthetic (hands-on) learning, which is proven to drive retention and engagement.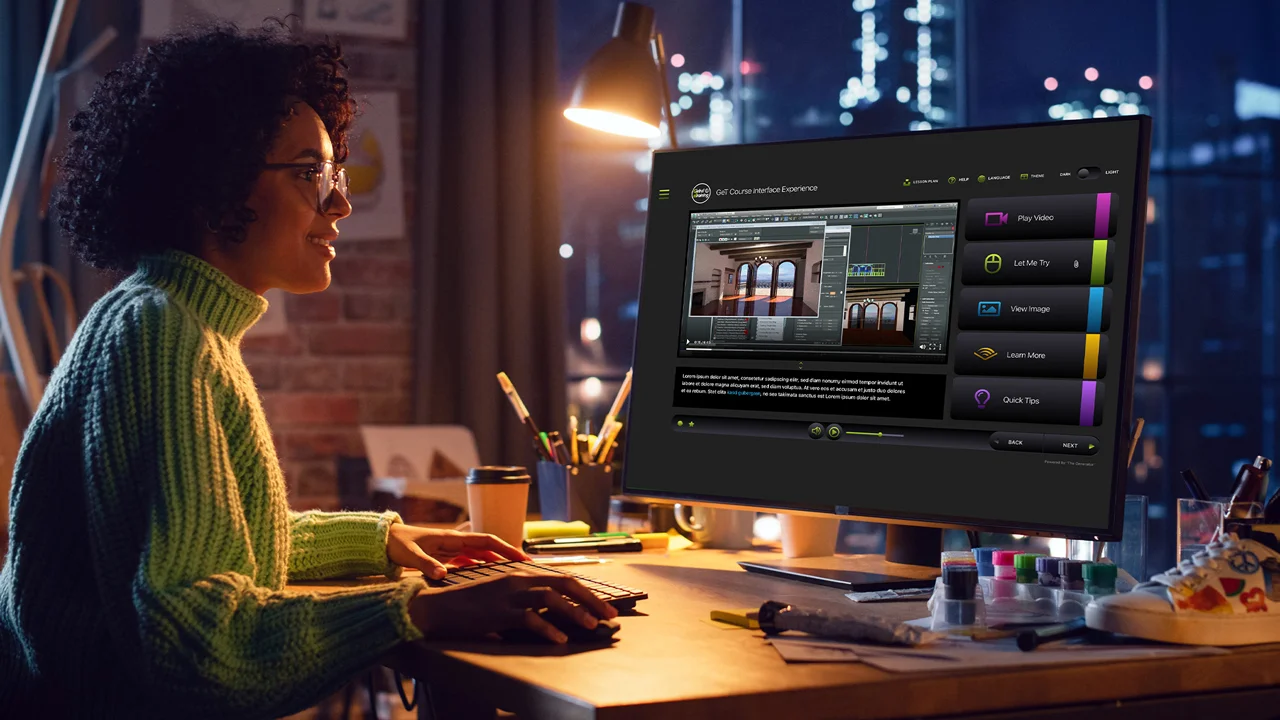 Build a course in 3 steps
Step 1:
Tell us about your course
Select a topic or subject of interest, being as specific as you wish. Next, select the preferred course difficulty, duration and language to cater to your preferences and needs.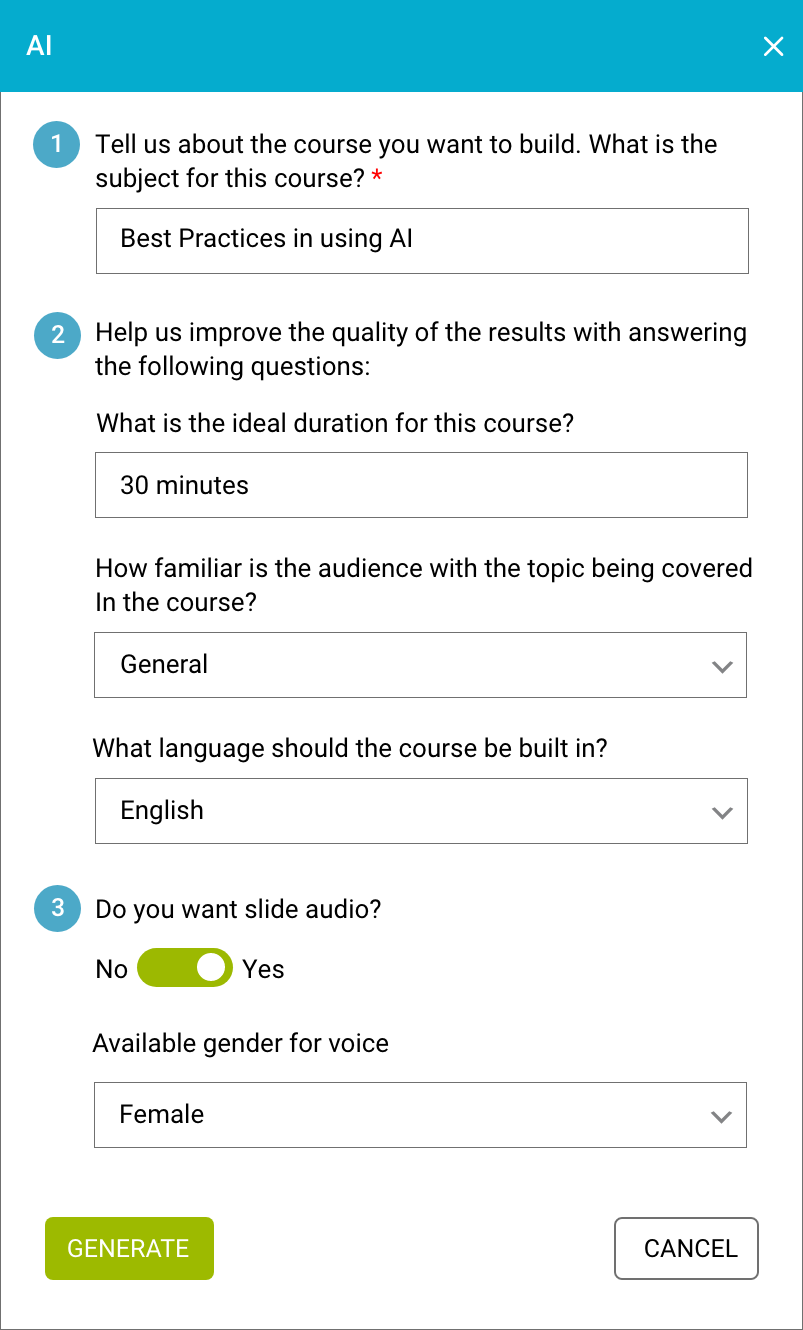 Step 2:
Edit your table of contents
Once you've finished and submitted the information from step 1, AI swiftly generates a comprehensive table of contents based on your topic and preferences. From here, you can preview, edit and add to it before finalizing the course.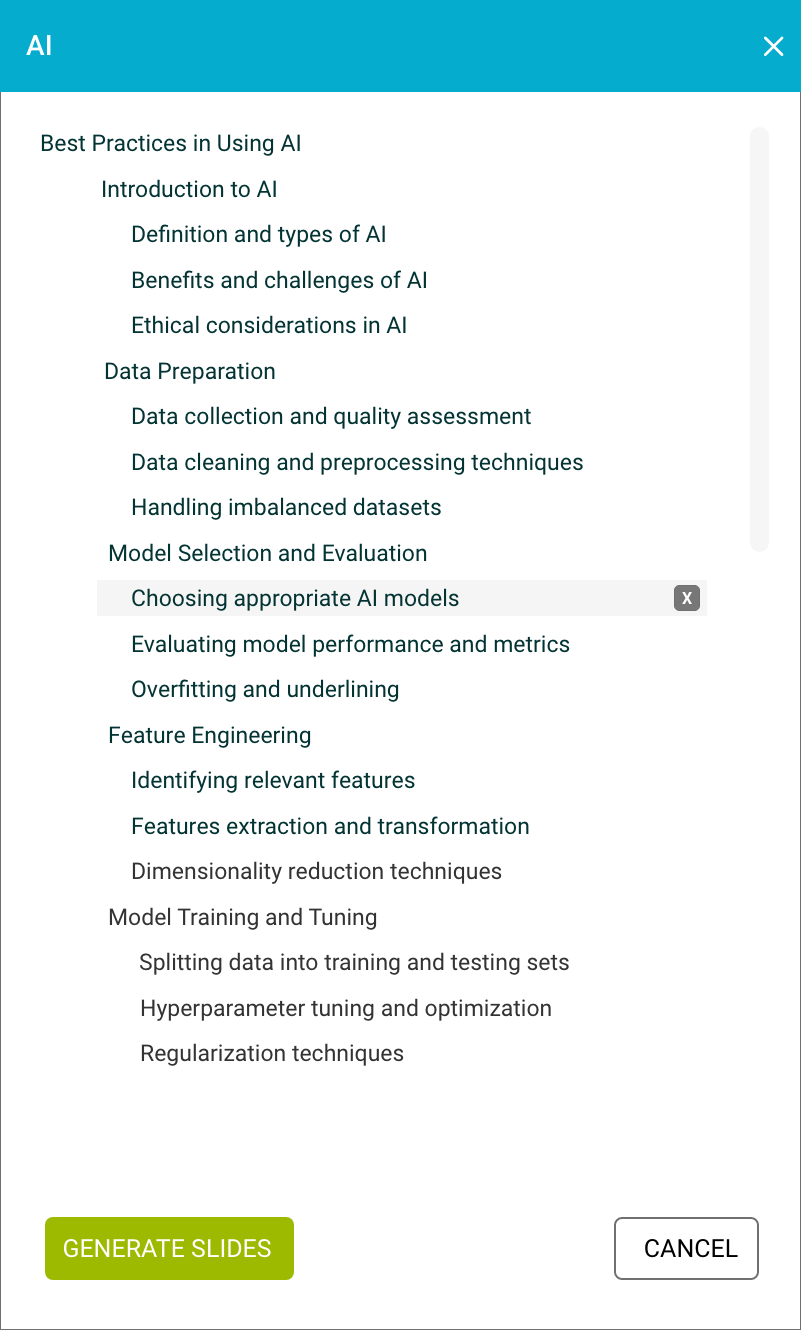 Step 3:
Receive and review your custom AI-generated course
With a simple click of approval, your custom course will be generated, complete with lectures, slides, text and audio – all ready for your review. From here, you can modify topics and slide titles, and even utilize AI to add new content or further enrich the course if you choose. 
Course builders can return and edit the content at any time, building upon the existing structure.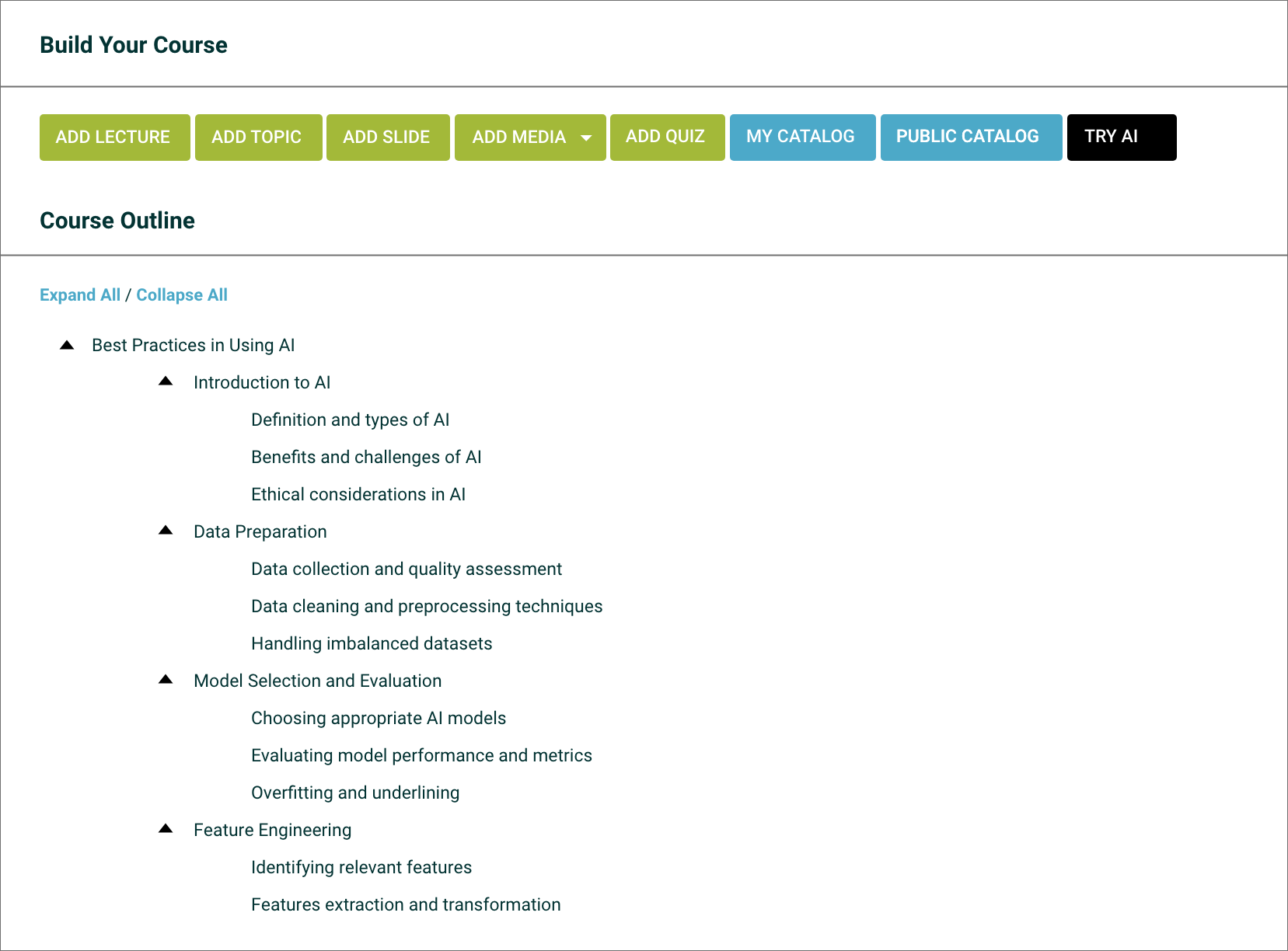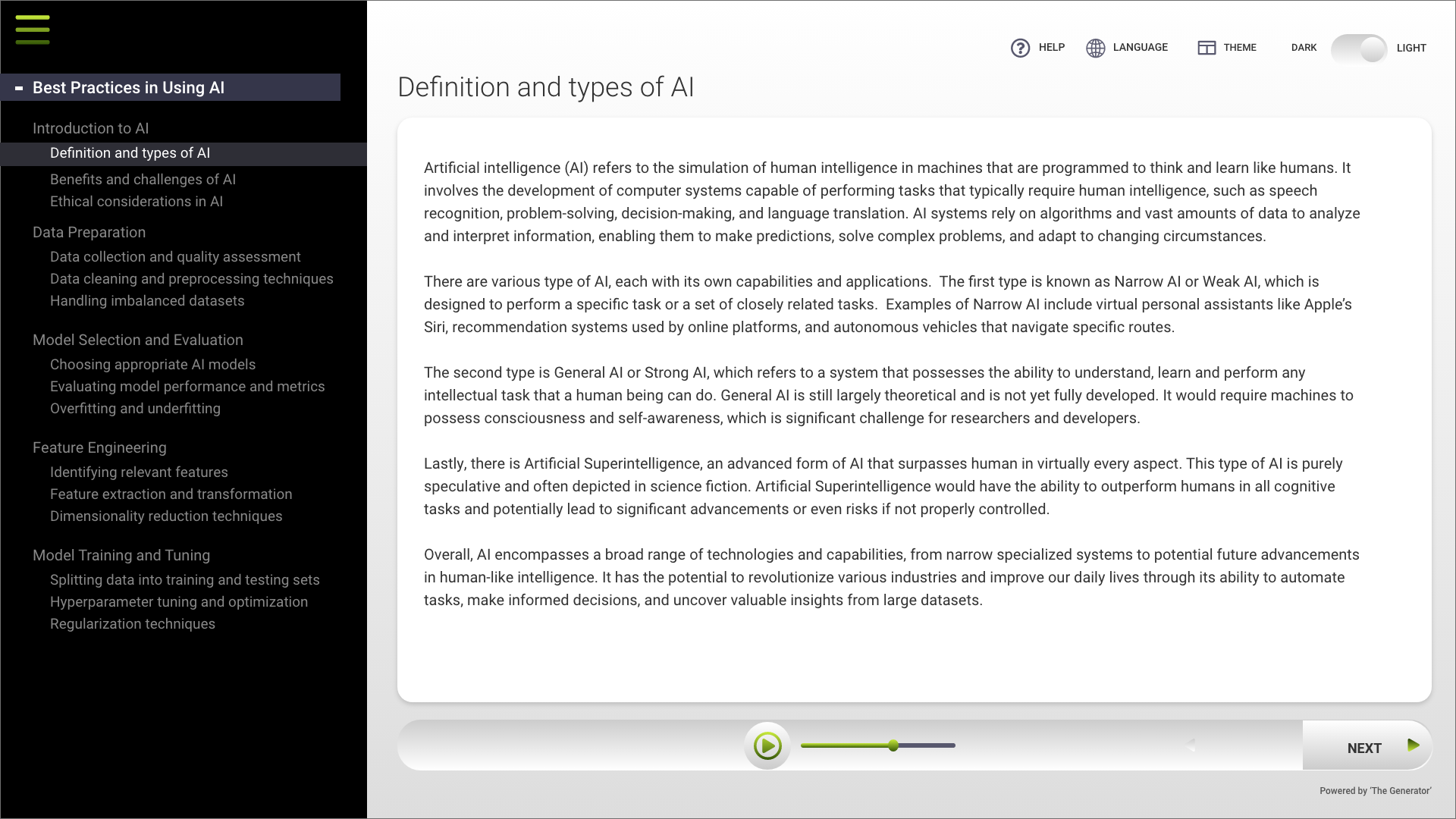 AI-POWERED COURSE CREATION
Why your team needs it
AI-POWERED COURSE CREATION
Tools that work together