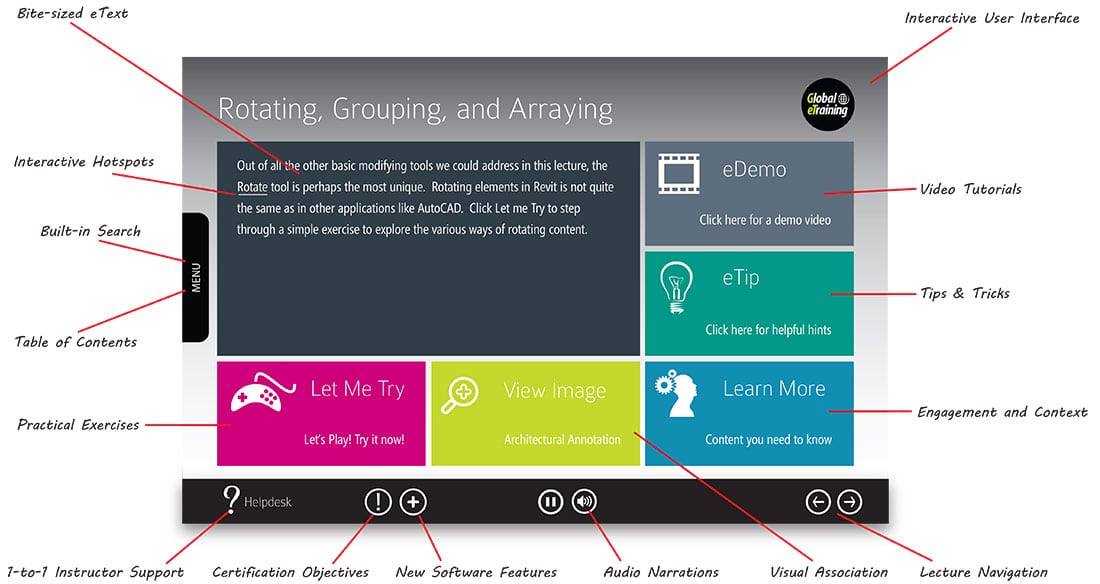 The launch of The Generator puts proven, robust, and effective custom eTraining development within the direct reach of subject-matter experts in all industries across the globe.
A revolutionary new educational technology set to disrupt online learning development was launched by Global eTraining in Las Vegas on Tuesday evening. The Generator puts proven, robust, and effective custom eTraining development within the direct reach of subject-matter experts in all industries across the globe. The first of its kind, the patent-pending cloud-based software connects multiple contributors to an easy-to-use collaborative course building process.
Originally designed to address the knowledge capture needs of engineering and construction firms in adopting highly-custom Building Information Modeling (BIM) principles across professions and regional boundaries, The Generator has become a fundamentally game-changing technical training tool across sectors. Learners can access courses wherever and whenever they want, subject-matter experts can easily create and customize content for their unique contexts, and administrators can efficiently track and manage performance.
In the past, creating online courses was a cumbersome, time-consuming process. A software expert might team with an instructional designer and the pair would then collaborate with a subject-matter expert to create an online course. Instead, The Generator is simple enough to allow experts to create robust, multi-modal courses themselves, making it far faster and easier for organizations to quickly distribute standardized training across any number of learners – from tens to tens-of-thousands.
The tool's intuitive, drag-and-drop interface is "highly effective and easy to use, the best of both worlds," says CEO Susan Brattberg. "It doesn't require any special skills in eLearning design, or a course on how to use it. Consistent with GeT's specialty, The Generator also makes it extremely easy to address all learning styles, with the ability to incorporate video, audio, text, images, interactivity, hands-on exercises and quizzes throughout. And of course, the GeT team is there to support course creators every step of the way, including publishing on our world-leading technical training platform."
UK-based construction-industry software firm Synchro is an early adopter:
"GeT very easily transformed our 100-page document into their online format," CEO Thomas Dengenis, says. "It's early days, but feedback from our customers was literally, 'When are you going to get this out?' They are pounding on the door!"
The Generator joins thousands of hours of existing courses on Global eTraining's, online, on-demand eTraining platform to make it the most comprehensive online training solution available.
About Global eTraining
Global eTraining has over 25 years of experience in developing and delivering exceptional computer-based learning via our world-leading technical training platform. We are a strategic training partner to some of the world's largest and most diverse multinational design, construction and software organizations, government bodies and Fortune 500 companies, and the global leader in developing and designing training for the 21st Century. Learn skills faster. Retain knowledge longer. Apply to real-world projects better. More about Global eTraining at globaletraining.ca.