Global eTraining adds language translations to the Knowledge Management Platform
Edmonton, Alberta, Canada
May 21, 2020
The Global eTraining (GeT) Knowledge Management Platform is taking a giant step forward in diversity and inclusion with the enhancement of language translation to the 'GeT Everything' library and 'The Generator' course authoring technology.
Global eTraining is pleased to announce that the following courses are now available in French, Spanish, and German:
Autodesk Revit MEP The Complete Guide
Autodesk Revit Architecture The Complete Guide
Autodesk Revit Advanced Concepts The Complete Guide
Autodesk Revit Structure The Complete Guide
Autodesk Revit Families The Complete Guide
Autodesk AutoCAD 2D Drafting and Annotation The Complete Guide
Autodesk AutoCAD 3D The Complete Guide
Autodesk Navisworks Manage The Complete Guide
Autodesk Civil 3D The Complete Guide
Autodesk Civil 3D Advanced Concepts
Autodesk Inventor The Complete Guide
AutoCAD Plant 3D The Complete Guide
BIM 360 the complete Guide
Understanding the ISO 19650 Global Standard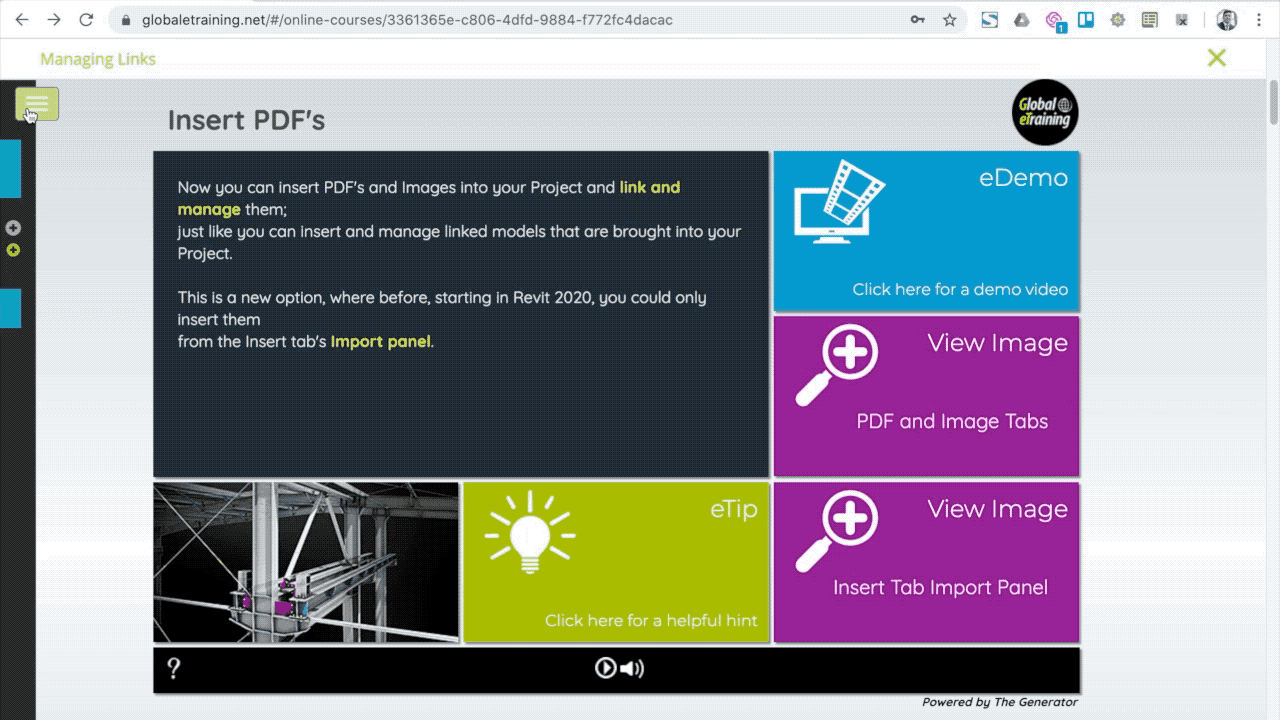 Additionally, Global eTraining customers can have their custom content, developed with 'The Generator' course authoring technology (part of our 2020 CODiE nominated "Knowledge Management Platform"),  translated into 20 languages including:
English
Arabic (العربية)
Chinese (中文)
Danish (Dansk)
Dutch (Nederlands)
French (Français)
German (Deutsche)
Hindi (हिन्दी)
Icelandic (Íslenska)
Italian (Italiano)
Japanese (日本語)
Korean (한국의)
Norwegian (Norsk)
Polish (Polski)
Portuguese (Português)
Romanian (Română)
Russian (Pусский)
Spanish (Español)
Swedish (Svenska)
Turkish (Türkçe)
"We are proud to be announcing that our on demand, all access, asynchronous library is now even more accessible with our new multi-language options. The intelligent language translation is further available to original content created by GeT customers in The Generator, enabling organizations to better serve their teams."
Charles Jarvis, General Manager, Global eTraining
By providing Global eTraining content in French, Spanish, and German, more people around the world can learn the BIM skills they need. Those who are working from home are now able to receive training in their preferred language, easing some of the frustrations of remote work.
Additionally, intelligent language translations within 'The Generator' is helping companies better communicate with and train their staff. Likewise, educational institutions can provide better learning and teaching experience to their students, faculty, and staff.
Please visit globaletraining.ca/meet to schedule a personal walk-thru of the Knowledge Management Platform. You can also visit globaletraining.ca/limited-time-pricing to learn about our current discounts for individuals and organizations.
---
Global eTraining (GeT) is a strategic training partner to some of the world's largest and most diverse multinational design, construction and software organizations, government bodies and Fortune 500 companies, and the global leader in developing and designing training for the 21st Century.
Global eTraining's world-leading technical training platform, learning methodology, and educational products have received Brandon Hall Excellence in Technology and Learning Awards, Software, and Information Industry Association (SIIA) CoDIE Awards, as well as the Canadian Society for Training and Development's 'WOW!' Award for new technology.
The 'GeT Everything' Library provides individuals and organizations with All Access and Complete Control of the entire Global eTraining course catalog and learning experience, for One Low (Pay-As-You-Go) Price.
Global eTraining. Learn Faster. Retain More. Save Time.
For more information about Global eTraining, please visit globaletraining.ca
To stay updated on new course releases, please follow @GlobalETraining on Twitter
Media Contact:
The GeT Marketing Team
marketing@globaletraining.ca