Build Your Own Course With The Generator
Enterprise Knowledge Management Platform
Imagine inserting your organization's corporate subject-matter experts' knowledge directly into an effective training and communication template, then rolling it out immediately across the organization, across the globe and across time zones.
Your people learn it – they remember it – and they quickly and easily access it when project needs arise. Forget the days of trainers traveling from office to office to deliver the same training at every site, or investing time in linear videos, webinars and memos, only for the knowledge to vanish when it's needed most.
The Generator gives you access to the most interactive and user-friendly platform available, which means your course-development time is spent efficiently.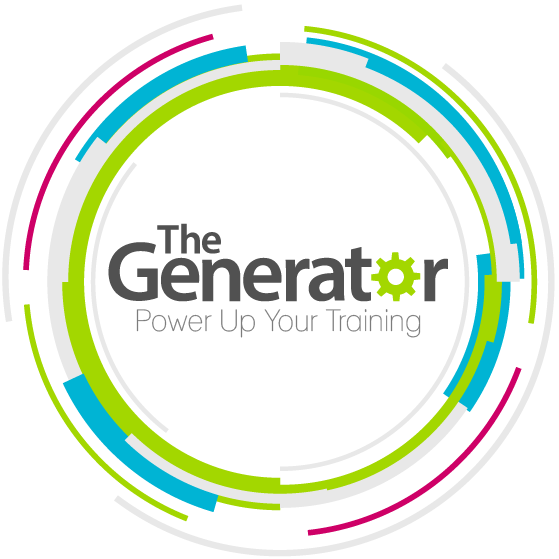 The Generator Self-Publishing Tool
An exceptionally effective authoring and publishing tool, The Generator is cloud-based software that connects subject matter experts to a collaborative course-building process. The intuitive drag-and-drop user interface is so easy to use that specialized skill sets in eLearning design and educational methodology, or courses on how to use the software, simply aren't needed. Knowledge management no longer needs to be a complex process. Now anyone can effectively and professionally communicate their proprietary knowledge through Global eTraining's proven course templates and scalable platform.
The Generator is SCORM compliant, which means you can export the courses you create to your own LMS. You can also save the course as an HTML 5 file, giving you the flexibility to upload the course to your website.
1. Develop
Intuitive drag-and-drop development interface allows for easy knowledge capture from your subject-matter experts
Compile your content directly within the tool
Maximize engagement with input files for all learning styles: video, audio, text, images, hands-on exercises and quizzes
You can preview, edit and adjust your course every step of the way
2. Publish
With just one click your course can be published to the Global eTraining technical training platform for your learners to access
Courses are SCORM-compliant and mobile optimized, ready to access from any device
3. Deliver
GeT's extensive experience in training rollouts means that you can benefit from access to user adoption and reporting templates to engage and monitor learners
It really is as easy as 1-2-3!
Deliver Infinitely Customizable Training on the Most Advanced Platform
Company-Specific Processes
Build your own content and add company-specific processes and workflows
Reorganize, modify and combine GeT modules across software topics
Develop technology-enabled Custom Learning Paths to deliver the right training at the right time
Upload content edits and course updates to the Learning Management System for immediate, global deployment
Utilize Exam Feedback Loops to auto-populate content based on passing quizzes and exams
Collaborate with multiple course developers in real-time
Power past all the online learning development challenges
Skip the committees
Upload the knowledge straight into the course framework
No need to learn complicated software tools
Bypass technical limitations
GeT it rolled out right when it's needed
The Generator provides a straightforward knowledge management process to develop effective courses that embrace all learning styles and make best use of your training dollars.
The Generator Brochure



Additional Services
If you need help to plan your course, generate audio, videos, or other learning components, let us know and we can help you with those too. In fact, we can assist you with:
Developing course outlines and plans
Recording professional audio
Recording video demonstrations
Building interactive activities
Branding your course materials and LMS
Ongoing engagement tools for learners
Find out how The Generator can help you.
"*" indicates required fields