GeT Interactive Courses: The Best Way to Learn
It's one thing to know that simply sticking to videos online doesn't result in effective learning or high retention rates. It's another to create online training that's markedly more effective. GeT Interactive is the multi-modal eTraining design and methodology that helps users learn skills faster, retain knowledge longer and apply it to real-world projects better. It is built on over 30 years of experience delivering effective computer-based training and is recognized by the education industry as a leader in its field.
Global eTraining's interactive course training reaches students with varied learning styles through text, audio, demonstrations, exercises, and videos, engaging all the senses and anchoring learning with action. GeT courseware integrates all of these because 61% of learners require a combination of learning styles to learn best, while only 17% benefit from any single style.
Course Interface Components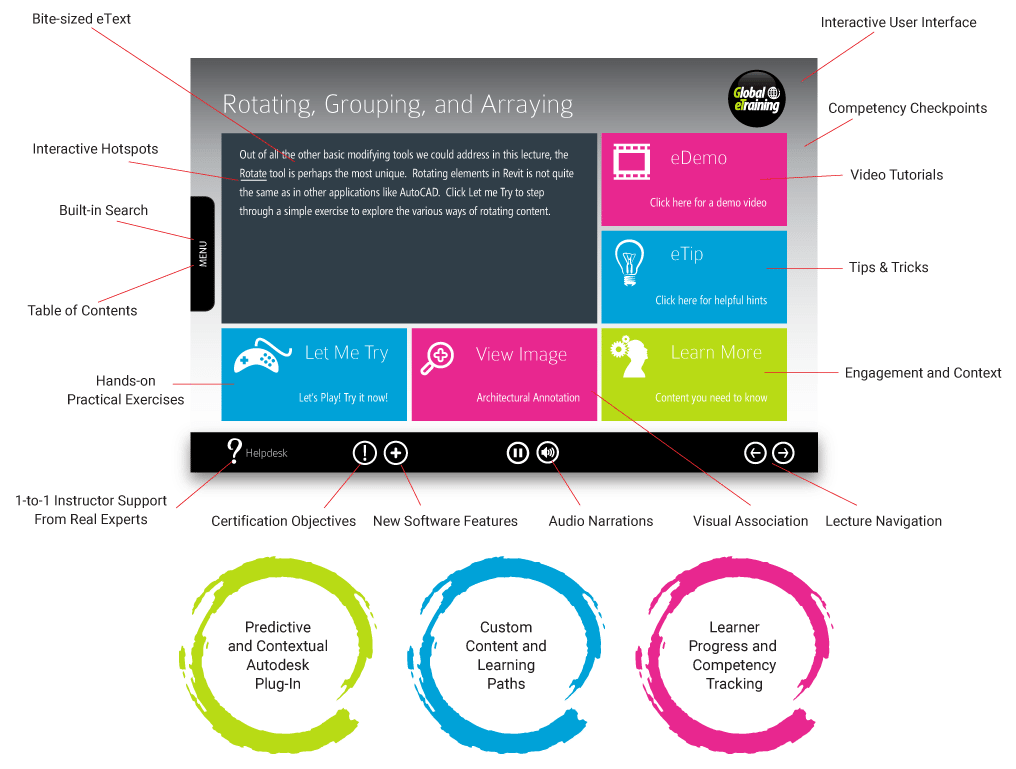 Learn Faster. Retain More. Save Time.
GeT Interactive seamlessly combines text, audio instruction, video demos, hands-on exercises, competency assessments and immediate feedback to replicate the best classroom learning experience.  While navigating GeT Interactive, participants can interface with the high-quality and professional content using their preferred styles, supported and enhanced by the built-in complementary styles, leading to a higher level of understanding and knowledge retention.
Explains the main concept
Associated images to support the text
Detailed demonstrations for a process or task
Tips and tricks, best practices, shortcuts, and much more
Practical exercises with step-by-step and workflow instructions
Multiple-choice quizzes mid-way through the course and post-course to ensure understanding and retention
Instructor and technical help desk ticket system
Built-in keyword and table of contents search functions
GeT Interactive is built to stand-alone or work in a blended learning environment. eTraining courses can be navigated:
For beginners to become proficient quickly
For intermediate or advanced users to use as a searchable, on-demand reference tool
To follow a custom learning plan to reduce skills gaps
To prepare for certification exams
To upgrade to a new software version
Learning Designed with You in Mind
Learn and master today's most popular CAD, BIM and Productivity software.
Start Learning Today