The 'GeT Everything' Library
Learn, Retain and Apply Skills to Real-World BIM Projects Better
All Access. Complete Control. One Low Price.
Learn the BIM skills you want, when you want, how you want, so you can do what matters most.
Learn the BIM skills you want.
GeT full, unrestricted access to the 'GeT Everything' library including:
The entire Global eTraining course catalog
Searchable Reference Tools (Including our intuitive Autodesk Plugin, 'GeT Know-How')
Course authoring technology, 'The Generator'
Dedicated account manager support
This is YOUR Training Solution
Develop your skills, train your staff, or enhance your students' education. You're in complete control of your content, your eTraining experience, and your budget.
Learn YOUR way with the 'GeT Interactive' course interface, combining the 4 VARK learning styles (Visual, Auditory, Read/Write, and Kinesthetic)
Complete courses step-by-step or use Global eTraining as a searchable reference tool
Easily manage learners with the 'GeT Subscription System' (GSS) (Activate, Deactivate, and Reactivate Learners)
Monitor, Measure, and Report via Learning Management System (LMS)
'GeT Everything' for Teams:
Schedule a personal walk-through of Global eTraining's team solutions with an in-house expert. Tour the features of our Knowledge Management Platform and receive a custom quote for your team.
Schedule Your Meeting
The GeT Everything Library includes the following courses
ISO 19650 Global BIM Standards
Windows 10 Power Users*
Windows 10 Administration*
Microsoft Word 2019 Power Users*
Microsoft Word 2019 Pro*
Microsoft Excel 2019 Pro*
Microsoft PowerPoint 2019 Pro*
Microsoft Outlook 2019 Power Users*
Microsoft Outlook 2019 Pro*
Office 365: Office Online*
Microsoft Teams*
SharePoint Online 2019: Power Users*
Project Online Power Users 2019*
Office 365 Calendar*
Office 365 Administration (for the Non-IT Admin)*
Office 365 People*
Office 365 Tasks*
Office 365 Groups*
Office 365: Stream*
Skype for Business*
* Coming Soon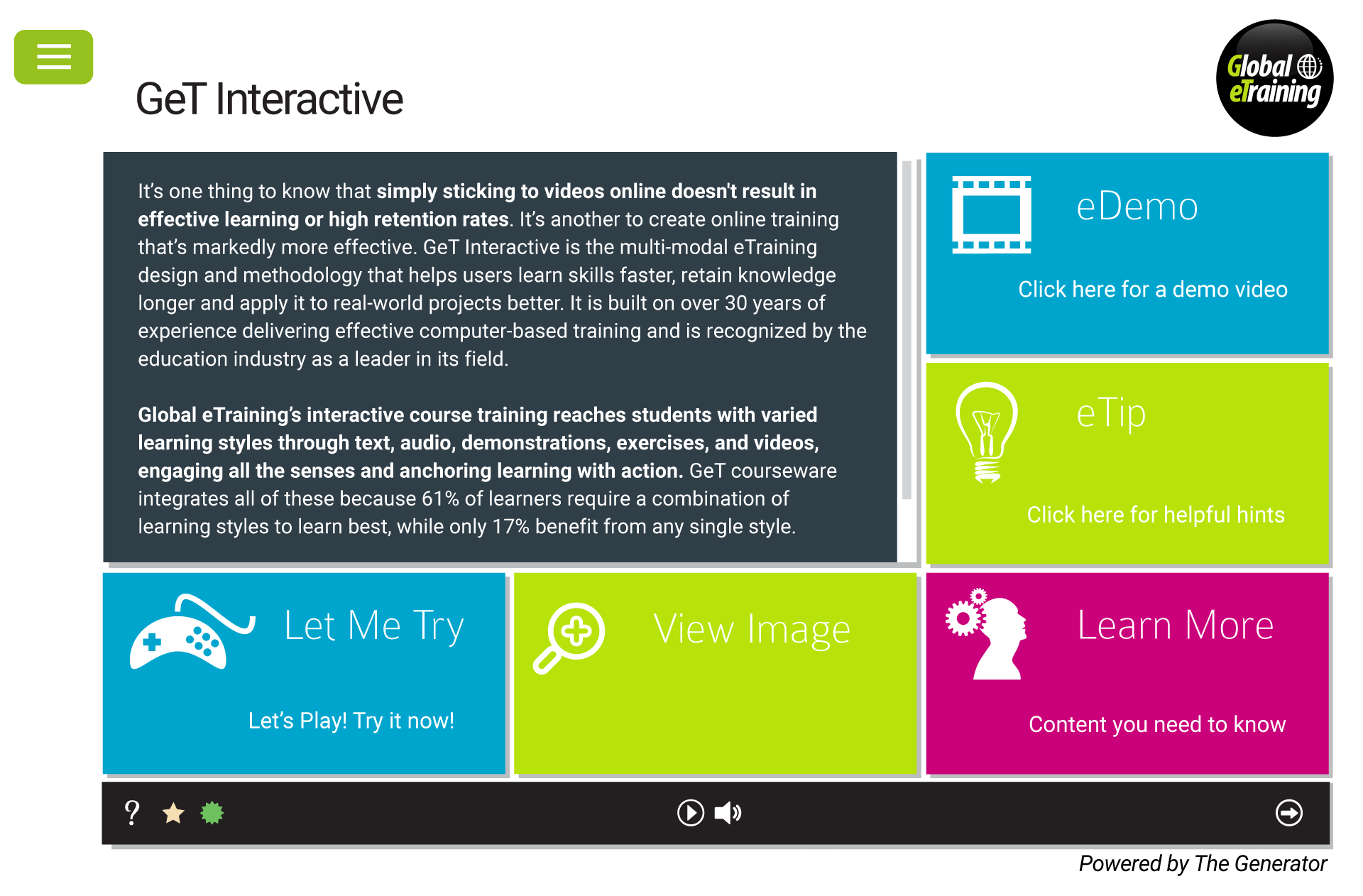 Table of Content Drop-down
Downloadable Practical Exercises
START YOUR
FREE TRIAL

TODAY
Fill out the form below to access your free 7-Day trial of the 'GeT Everything' library.